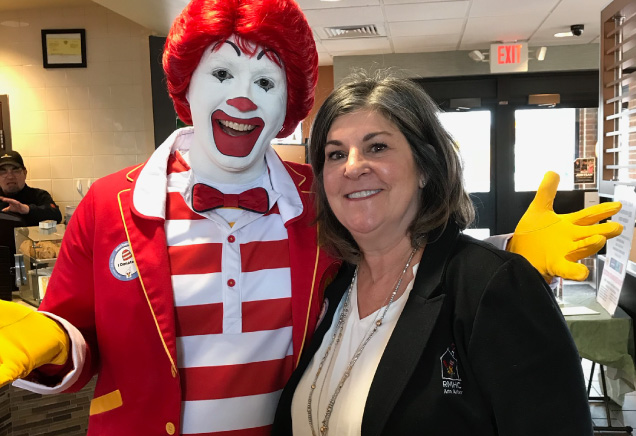 The RMHC Ann Arbor team works hard to provide safe housing and meal support to families with sick children close to the medical care they need.
Chief Development Officer (CDO)
Status: Full-Time/Exempt Employee
Reports To: Executive Director
Summary
The Chief Development Officer will be responsible for creating and overseeing the execution of a data-informed fundraising strategy and leading the development team, Executive Director/CEO and Board to execute the strategy with excellence.
The CDO will have key responsibility to work directly with the ED/CEO on organizational strategy and the development and execution a large-scale Capital Campaign to support future growth and expansion.
The CDO's greatest asset is a collaborative partnership with RMHC Ann Arbor Executive Director/CEO. This role is accountable for leveraging and collaborating with the ED/CEO on major and principal gifts. Ensuring the budgeted annual fundraising revenue is met or exceeded.
The CDO works in collaboration with peer directors as part of the organization's leadership team. Oversees all critical functions of fundraising and marketing. CDO will create data-informed strategies for donor acquisition, renewal, upgrade and overall retention for leadership, major gifts, corporate giving, and legacy gift programs. Works in collaboration with Executive Director/CEO to determine strategic use of her/his time in donor development.
Essential Job Functions
Development of fundraising short term and long-term strategic direction in collaboration with Executive Director/CEO.
Responsible for providing leadership and day-to-day management of development and marketing team comprised of full and part time staff to ensure overall success:

Development Director with the responsibility of detailed Annual Giving, Grants and Stewardship plan and execution.
Development Manager with a primary accountability of fundraising event planning and event guest to donor conversion, and development support.
Marketing Specialist with a primary accountability for social media, website content management, graphic design, and communication materials.
Development Associate with development administration support responsibility.
Development Administrative Specialist with a primary accountability of accurate and timely gift processing and acknowledgment.

Responsible for Major Gifts moves management and asks with Executive Director support ($10K +).
Development of Corporate and Legacy Giving programs.
Development of high-level, integrated donor communications plan.
Leads agency tours as needed and represents RMHC Ann Arbor in the community.
Oversees management of all direct mail/email appeals and campaigns.
Ensures donor recognition fulfillment.
Ensures alignment with the AFP Donor Bill of Rights and ethical standards.
Participates in board meetings to report on development and marketing performance.
Perform other job-related duties as assigned.
Education and Experience: An equivalent combination of education, training and experience will be considered.
Proven experience in success in securing major and campaign level gifts. ($50k+)
Bachelor's degree and 10+ years of success in Development with a passion for the mission.
Organized and motivated self-starter and team-player with proven success with fundraising events, major and monthly donor programs, as well as leadership level individual donor development.
Experience managing and leading a fundraising team.
Experience with working with and engaging the Board of Directors in a culture of philanthropy.
Excellent written and verbal communication, as well as presentation and interpersonal skills.
Attention to details; strong strategic, analytical, and organizational skills.
Experience with donor database utilization and optimization.
Knowledge, Skills and Abilities, which may be representative, but not all-inclusive of those commonly associated with this position
Knowledgeable of current fundraising best practices and emerging trends; with expertise in individual moves management, strategic planning. Strong relationship, presentation, and collaboration skills. Thrives in a metrics-driven environment. Experience managing remote teams.
Possess the highest standard of personal and professional integrity; able to initiate, grow and sustain meaningful professional relationships among colleagues and constituents to maximize philanthropic support and fulfill agency's mission.
Trustworthy/able to maintain confidences in all matters related to the business and welfare of the organization.
Proficient with Microsoft Office Suite and a donor data management system (CRM). Must also be able to use general office equipment including a smart telephone, computer and/or laptop, copy machine, scanner, fax, and calculator.
Work Environment: Environmental or atmospheric conditions commonly associated with the performance of the functions of this job.
Position will work primarily from RMHC Ann Arbor with hybrid work from home scenarios. Uses office equipment including laptop. Required to work daytime, and/or evening and weekend hours as necessary.
Physical Abilities that are commonly associated with the performance of the functions of this job.  The physical demands described below are representative of those that must be met by an employee to successfully perform the essential functions of this job.  Reasonable accommodations may be made to enable individuals with disabilities to perform essential functions.
Light sedentary office work. Frequently required to sit for extended periods of time.
Physically able to travel between RMHCAA locations and others via personal vehicle or similar.
While performing the duties of this job, the employee is regularly required to stand; walk; use hands to finger, handle, or feel; reach with hands and arms; climb or balance; stoop, kneel; talk or hear.
Must be physically capable of carrying 35 lbs.
Reasonable accommodations may be made to enable individuals with disabilities to perform the essential functions.
All applicants should send resume and cover letter to Kathy Baum at kbaum@rmhcannarbor.org or call 734-998-2102 or 734-604-7035 for more information.