Whether you're providing toiletries, holiday or educational toys, fresh linens and pillows; offering free haircuts or chair massages; or clearing gutters and trimming foliage, our in-kind donors help families every day.
Holiday Shop Items
As the holidays approach, our families will not be home celebrating with their loved ones. And they have limited time and resources to shop for presents because they are focused on one thing: caring for their child receiving medical care. This makes our Holiday Shop all the more important to our families!
RMHCAA families can come "shop" directly at our House for their loved ones and volunteers make sure the gifts are wrapped with love!
Will you help bring holiday joy to our families when they need it most? Donate toys, books, games, and more!
All new, child-safe, unwrapped toys must be dropped off at the House by Friday, December 16th. To find out more, contact Mary Moffett at mmoffett@rmhcannarbor.org or 734.998.6531. Thank you!
View our Holiday Shop list here:
Holiday Shop Toy Items
Wish List
Your donations will help us make a "home away from home" for families whose children are receiving treatment at area hospitals. View the items on our Wish List here:
Top Wish List Items
Amazon Wish List
AMAZON: You can also order items and ship them to the House through Amazon. View our Amazon Wish List. Select us as your charity with Amazon Smile and we also receive a donation!
Questions about making donations? Please contact Development and Events Manager, Mary Moffett.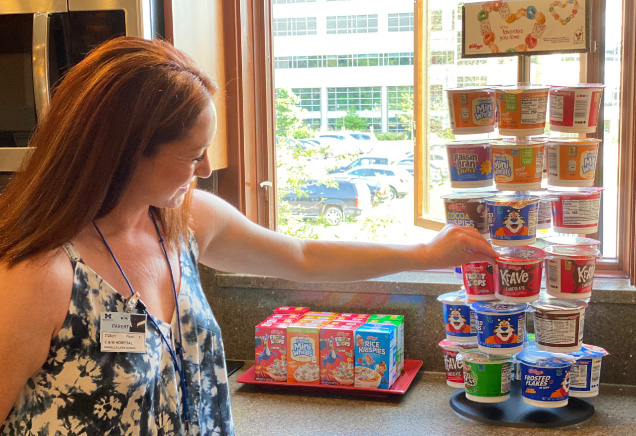 Special Giving Opportunities
Adopt-A-Room
The Adopt-A-Room program offers a year-long sponsorship of one of the 31 guest rooms in our Main House.  Adopt-A-Room supporters have an incredible impact on families who call their room "home" while their child is hospitalized.
RMHCAA is proud to recognize our generous Adopt-A-Room supporters.  Recognition features signage inside your adopted guest room that will be seen by hundreds of individuals each year.  You will have the satisfaction of knowing you have helped the family of an ill or injured child when they need it most.
A guest room accommodating up to four guests can be adopted for a donation of $2,500 a year.  A larger guest room that accommodates up to six guests can be adopted for a donation of $3,500.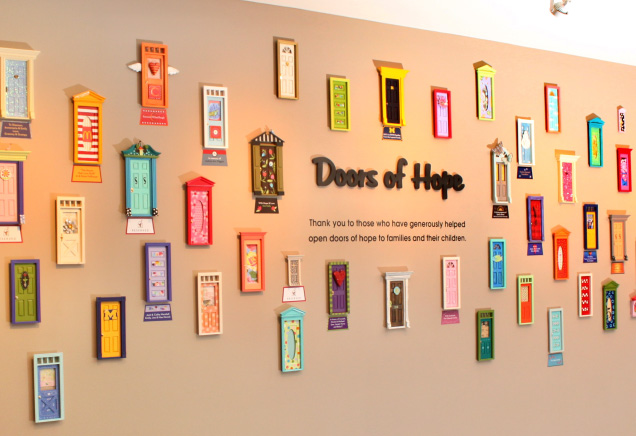 Doors of Hope
Ann Arbor's famous fairy doors have spread their whimsy to our Main House in a unique art installation entitled Doors of Hope.  The fairy doors are meant to symbolize the hope we offer to those who enter our doors each day.  Funds raised through the Doors of Hope are used to support overnight stays for families and general operations of the House.
Doors of Hope are available for a donation of $1,000, which can be from one gift or multiple gifts collected from family and friends.  Donors are able to choose a door from our colorful, whimsical selection.  The door's "welcome mat" is personalized to display your name and/or message of hope.  Doors can also be purchased in memory or honor of an individual.
Memorial Leaves
Many families wish to celebrate the life of a loved one with a Memorial Leaf on one of our Memorial Trees.  These beautiful, copper leaves can be engraved with a loved one's name and added to our Memorial Tree installation in the atrium area of our Main House.
Memorial Leaves are available for a $500 donation, which can be from one gift or multiple gifts collected from family and friends.
For more information, or if you are interested in any of these special giving opportunities, contact Mary Moffett at mmoffett@rmhcannarbor.org.