GIVE $23 Monthly – GET a Tote Bag!
By choosing to become a monthly donor, you are joining a special community of supporters that are dedicated, strategic, and provide sustained support to our programs and services. BONUS – all monthly donors (that give a minimum of $23) will receive a durable, reusable, canvas tote bag! Just sign up today and we will ship it directly to you.
But why $23? The average stay for a family in our House is 23 nights!  Your gift ensures we can provide the care and resources they need, while keeping the family together – for as long as it is needed – and at no cost to them.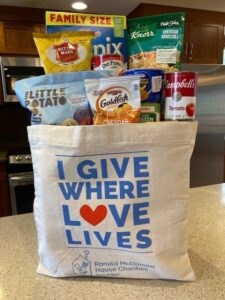 Your donation helps RMHC Ann Arbor families feel at home – even when they can't be.