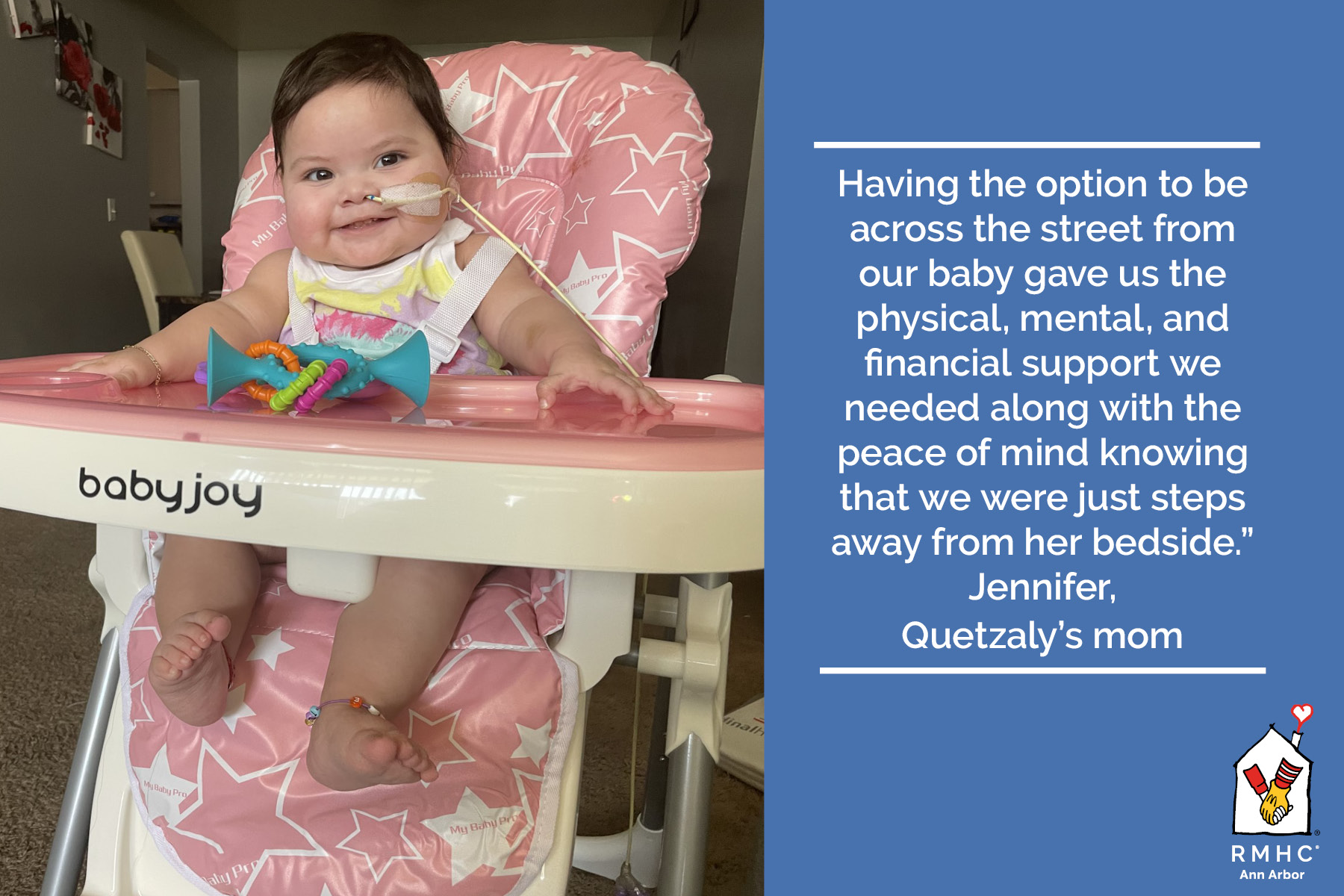 21 Nov

"We are Forever Grateful for RMHCAA"

The Esteban family welcomed their baby girl, Quetzaly in August of 2022. At just four-months-old, she contracted RSV and was taken to a hospital in Grand Rapids. Quetzaly was very ill from the virus; she flatlined, was resuscitated, and also suffered a stroke. While being treated for RSV, they discovered Quetzaly has cardiomyopathy and a mitochondrial disorder. She was placed on a Berlin Heart and was soon transferred to Michigan Medicine C.S. Mott Children's Hospital.

With no rooms immediately available at RMHC Ann Arbor, the family was put  on a waitlist and spent their first weekend at a local hotel. When a room became available at the House it allowed for not just Quetzaly's mom and dad to stay, but grandma and siblings could also stay when needed. It took an entire family effort to ensure Quetzaly was cared for and her sisters, Nyelly (5) and Yixabelly (4), were able to attend school as much as possible.

In January 2023, Quetzaly was placed on the transplant wait list for a new heart. During their 8-month stay, the Estebans enjoyed using the House kitchen to cook Chorizo and Eggs for breakfast. Some mornings you could find Jennifer in the kitchen making breakfast for her family and other families in the House. She had created close connections with other families going through a similar journey and still keeps in touch with several of them today. Although Jennifer enjoyed cooking breakfast, she says coming back from the hospital to a prepared meal after a long day bedside was a true gift!

On July 27, the Estebans got the call that there was a heart for Quetzaly! They were overjoyed and grateful to the donor family, but also scared. Thankfully, the transplant was successful and after a few weeks of recovery and observation, the family was finally able to go home.

Quetzaly is thriving and progressing well at home with the help of her two sisters teaching her everything they know! With memories of how much they depended on meals and pantry items during their stay, the Estebans continue to show kindness with donations to our food pantry so that families like them can have comfort when they need it most.

This season, YOU have a wonderful opportunity to show kindness like the Estebans. Thank you for your response filled with compassion, generosity, and hope! Give the gift of togetherness. Donate now. ALL DONATIONS TRIPLED UP TO $10,000!